EFDC_Explorer has been updated to incorporate the pre- and post-processing of LPT's. Use of LPT's can be helpful when modeling oil spill tracks, emergency response, water quality applications and plume tracking. The EE pre-processing provides full control for initial particle seeding, LPT computational option selection and plotting. The EE post-processing allows for a range of display options for the tracks, animations to the screen and or AVI files (click here to see gallery of LPT animations), and the ability to export any or all of the particle tracks to ASCII files.
The LPT sub-model has been implemented with the following major options:
Particles are free to move in full 3D,
Particles can be fixed at a user specified depth, and
A random walk component can be added to either of the two options above.
"LPT Main Options" tab the user may set the number of drifters set, the time for release of the drifters and the end time for the observation of the drifters. The user may also specify the output frequency in minutes. The "Vertical Movement Option" frame provides the user the option of fixing the particles at their initial seeding depths.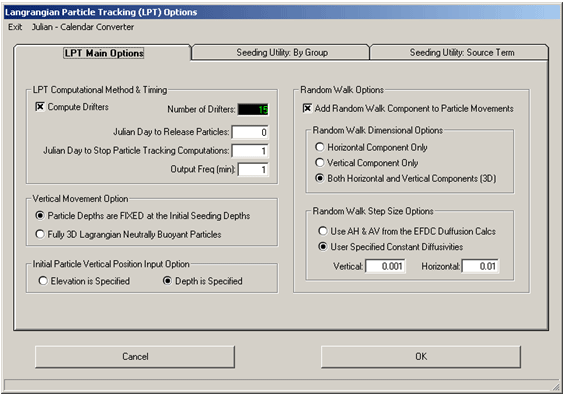 The tab below is used when a group of drifters is to be released. The "Seeding Options" frame allows the user to select from "Uniform Spacing" or "Random Placement." The Uniform Spacing option enables the user to selecting the X and Y coordinates at "LL X" and "LL Y", as well as the spacing between each seed with the "Delta X" and "Delta Y" input.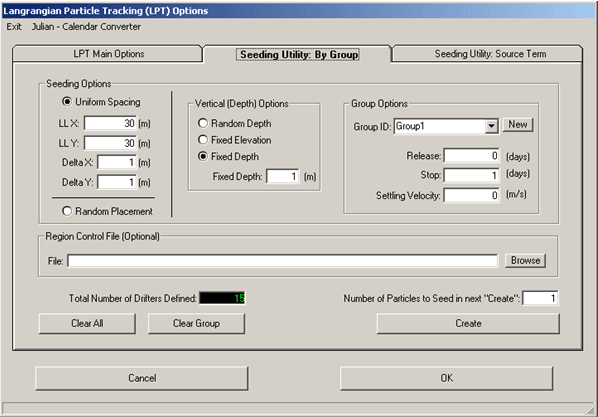 An example of the LPT function may be seen below. This example consists of a rectangular domain with flat bottom, an open boundary to the east and a flow boundary along the southwest edge. U component masks were inserted to demonstrate the functionality of the Lagrangian Particle Tracks computations when masks are used.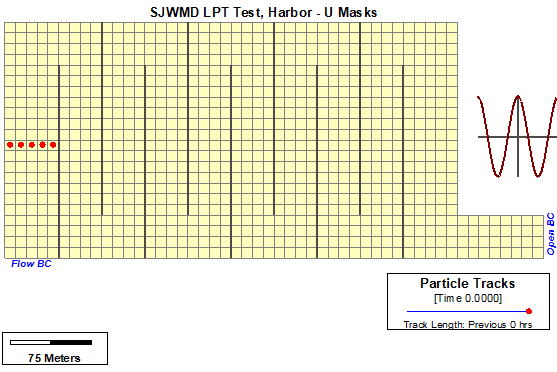 The model represents the vertical component as a depth averaged system with 1 sigma layer. The depths of the 5 drifters are initialized at specified depths. The image below shows the particle tracks colored by elevation and with random walk applied. Even though there was no vertical component, the tidal range is seen to result in changing particle elevations.