EFDC_Explorer has several options for generating wave effects, as shown below. Users may externally link the model in order to determine wave effects, or alternatively, EFDC_Explorer can internally generate the bedshear stress associated with wind generated waves.

The current options available are:
No Wave Effects (ISWAVE=0)
External Linkage-Boundary Layer Only (ISWAVE=1, requires WAVEBL.INP)
External Linkage-Boundary Layer and Currents (ISWAVE=2, requires WAVE.INP)
Internally Generate Windwaves - Boundary Layer Only (ISWAVE=3)
Internally Generate Windwaves - Boundary Layer and Currents (ISWAVE=4)
Most recently EE has been enhanced to include the ability to internally generate wind wave bed shears (ISWAVE=3). This can also include the bed shear due to wave generated currents (ISWAVE=4) as shown below. These options allow the simulation of wave effects and re-suspension of sediments inside EE. Using this option it is no longer necessary to use imported external wave turbulence to simulate wave propagation (EFDC_DSI Windwave Submodel Development, Dang Huu Chung and P.M.Craig, 2011).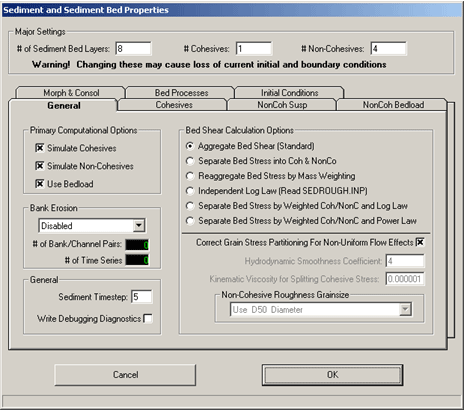 Using the External Linkage options, EFDC has the ability to import wave generated turbulence from wave models, such as REF/DIF1 Ver 2.5 (1994) These imported stresses can then be used to either impact only the boundary stresses (for sediment transport, ISWAVE=1) or can be used to impact the flow field and boundary layer (ISWAVE=2). In this method a wind time series is used to provide the instantaneous values of wave parameters with fetch calculated for each cell in eight directions.
Below is an example of the radiation shear stress XX component for the wave parameters. Examples of animations generated with EFDC_Explorer's windwave capabilities may be seen in the gallery.