EFDC_Explorer FULL Version
EFDC code has now been upgraded to allow multi-threading capabilities for vastly improved model run times. The Intel? runtime library has the ability to bind OpenMP threads to physical processing units. Depending on the machine topology, application, and operating system, thread affinity can have a dramatic effect on the application speed. For EFDC_DSI_OMP, optionally packaged with EFDC_Explorer, we can now produce run times up to 4 times faster on a six core processor than the conventional single-threaded EFDC model. Multi-threading is an optional extra with any purchase of EFDC_Explorer FULL Version.
The figure below shows the speed gains from one processor (OMP1) to six processors (OMP6) for various computational groups in an EFDC model setup for the Sacramento-San Joaquin Delta. As can be seen in the first column, "Elapsed Total", overall run times are now up to 4 times faster with 6 threads than what they were running a single thread. See below for a detailed description of each computational group.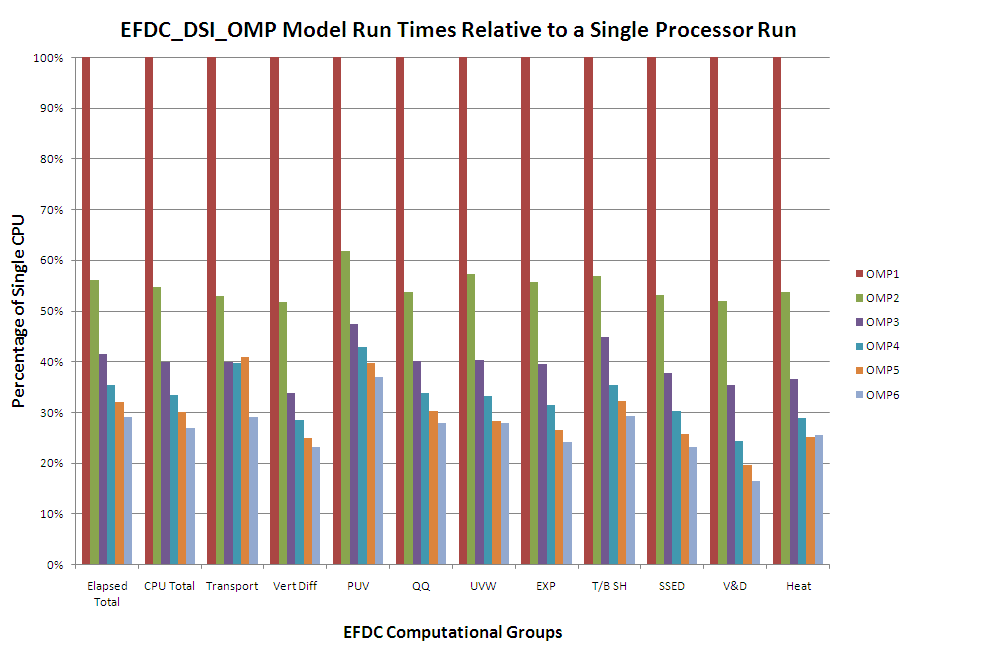 Note that the computational groups, or sub-models, within EFDC have been individually timed in order to track the internal process that use the majority of the run times. The sub models shown here are: Elapsed Total = total elapsed time; CPU Total = total CPU time; Transport = advective transport calculations; Vert Diff = vertical diffusivity calculations; PUV = pressure fields for 2D solution of water surface elevation; QQ = turbulence intensity; UVW = internal mode momentum calculations; EXP = explicit terms in momentum calculations; T/B SH = top and bottom shear calculations; SSED = sediment transport calculations; V&D = horizontal and vertical diffusivity calculations; Heat = heat transfer calculations.
Normal 0 false false false false EN-US X-NONE X-NONE
OMP testing with the 3-Dimensional Hydrodynamic Model of the San Joaquin Delta
The graphic above came from the EFDC model of DSI's 3-Dimensional hydrodynamics and sediment transport model developed for a study of the Sacramento-San Joaquin Delta. The model was calibrated with measured flow, salinity, water temperature and total suspended solid data from more than ten stations in the Delta.
With 11,708 horizontal cells and four vertical layers it is a sophisticated structured grid representation of this highly complex waterbody. Simulated parameters included five river bed layers with morphology changes during calculation. The results provide information on the nature and location of deposition or erosion in the system. The model serves as a basis for advanced watershed management, ecosystem restoration, water storage, water quality planning and management supply.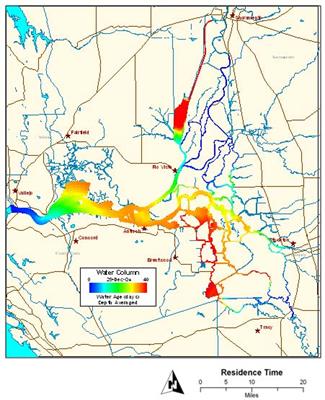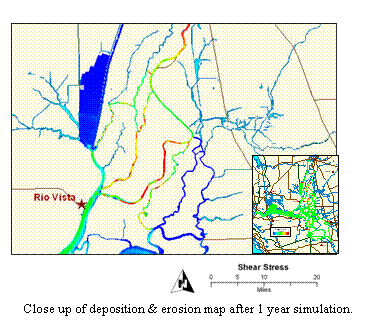 Save Time with Multiple Processors
The table below quantitatively demonstrates the time saved by comparing SSJ Delta (CALFED) model run time with one processor (OMP1) with model run times of up to six processors (OMP6). Overall run times are now approaching 4 times faster with 6 processors as compared to run times using a single core. It should be noted the current OpenMP capability is functional for the 2 time level solution. 3 time level solutions are still single-threaded.
| | | | |
| --- | --- | --- | --- |
| Number of Cores | Elapsed Time | | |
| 1 Core (EFDC_DSI Testing, CALFED - SedTran) | | | |
| 2 Core (EFDC_DSI Testing, CALFED - SedTran) | | | 1.82 |
| 3 Core (EFDC_DSI Testing, CALFED - SedTran) | | | 2.51 |
| 4 Core (EFDC_DSI Testing, CALFED - SedTran) | 35.4% | | 2.98 |
| 5 Core (EFDC_DSI Testing, CALFED - SedTran) | 32.1% | | 3.32 |
| 6 Core (EFDC_DSI Testing, CALFED - SedTran) | 29.1% | | 3.72 |