연구의 선진화와 생산성 향상에
필요한 최적의 소프트웨어와 컨설팅을
공급하도록 노력하겠습니다.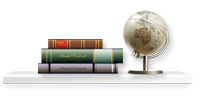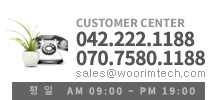 GeoStudio 2021


New Features in GeoStudio 2021


New SIGMA/W Formulation
A completely reformulated version of
SIGMA/W
is available in GeoStudio 2021. The SIGMA/W solver was upgraded to the GeoStudio Solver Engine that was already available in the GeoStudio flow products. This solver has faster performance, better convergence, and multi-physics integration. The new convergence schemes, combined with a new stress-update algorithm, allow for the analysis of material non-linearity that was previously not possible.
Additional In Situ Analysis Method Available in SIGMA/W
SIGMA/W now has two In Situ analysis methods: (1) Gravity Activation, which was previously available; and (2) the K0 Procedure. The K0 Procedure requires that all materials applied to the domain have a valid K0 value. All material models now include a K0 Procedure tab that allows for specification or calculation of the at-rest earth pressure coefficient. The relationship used to calculate the at-rest earth pressure coefficient depends on whether the soil model has a friction angle or over-consolidation ratio defined, enabling the simulation of a range of stress histories.
SIGMA/W Load-Deformation Formulation Includes Pore-Water Pressure Changes
SIGMA/W now incorporates pore-water pressure changes in load-deformation analyses, given the definition of the initial and final pore-water pressure conditions. This functionality assists with analyses in which changes in pore water pressure cause complications during construction, but the hydraulic properties are not well known, for example, in deep excavation projects. In addition, SIGMA/W is now capable of analyzing submerged fill placement in load-deformation analyses, by detecting the presence of ponding at the ground surface and ensuring that the gravity activation procedure uses the correct soil unit weight.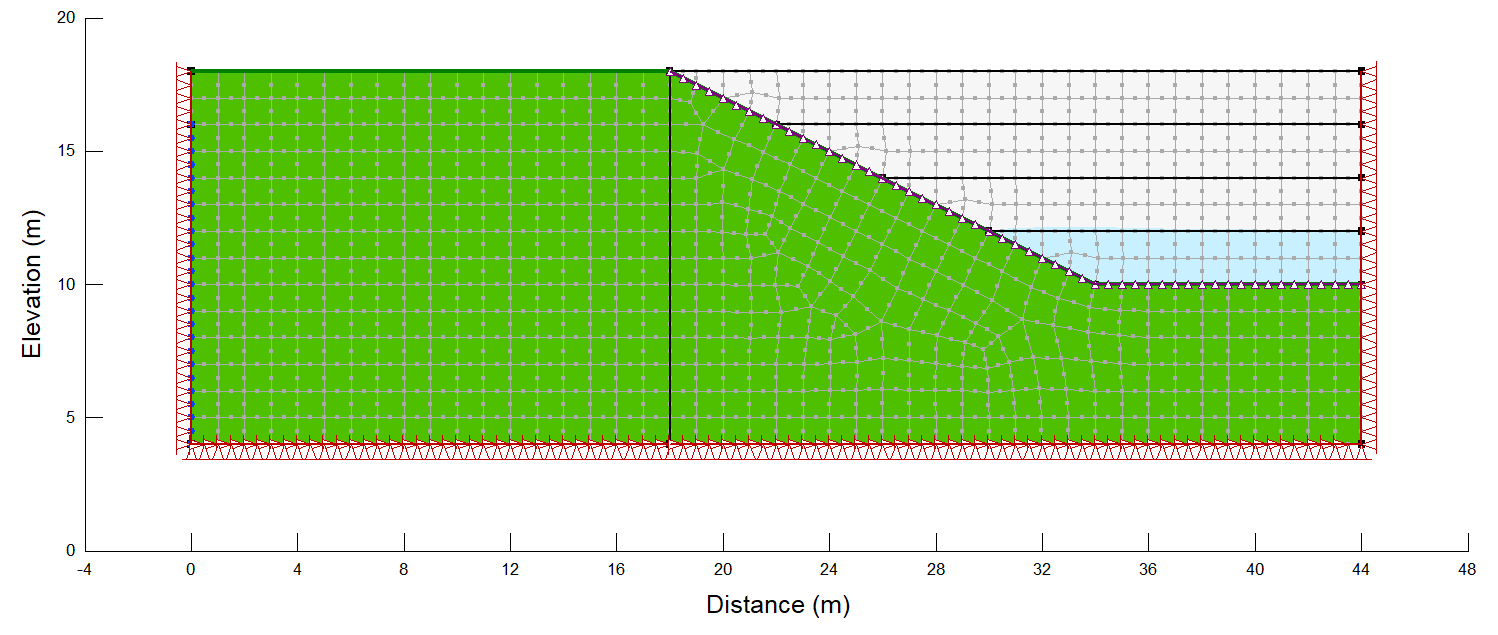 SIGMA/W Consoliation Formulation Updated for Greater Rigour
The new SIGMA/W consolidation analysis formulation can handle complex hydro-mechanical coupling in both saturated and unsaturated soils. The consolidation formulation considers the bulk modulus of the pore-fluid, making it possible to simulate fully undrained responses without numerical issues. Convergence settings are now uniquely defined for stress-strain and water flow analyses. Thus, consolidation analyses can evaluate complicated flow systems with the same rigour as SEEP/W.

Strength Reduction Stability Added to SIGMA/W
SIGMA/W now offers Strength Reduction Stability, allowing for the assessment of the safety factor without having to pre-suppose the shape of the slip surface. Deformation patterns are naturally revealed and soil-structure interactions are rigorously and intuitively handled.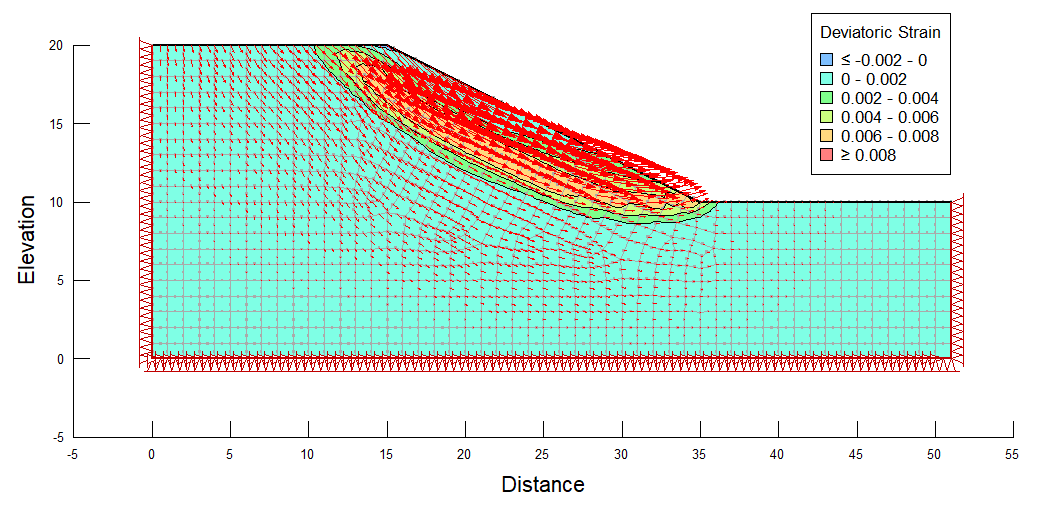 SIGMA/W Material Model Library Expanded Substantially
Load-Deformation2The SIGMA/W material model library has been significantly enhanced and improved, making it possible to model new classes of problems such as excavations in jointed rock, construction of embankments on foundations that undergo strain hardening or softening, and the undrained behaviour of low conductivity soils. New material models include Hardening/Softening Mohr-Coulomb, Tresca, Hardening/Softening Tresca, Ubiquitous Joint, and Hoek-Brown material models. The previous Mohr-Coulomb model now includes a tension cut-off option and a non-linear elasticity option was added to all material models except Anisotropic Elastic.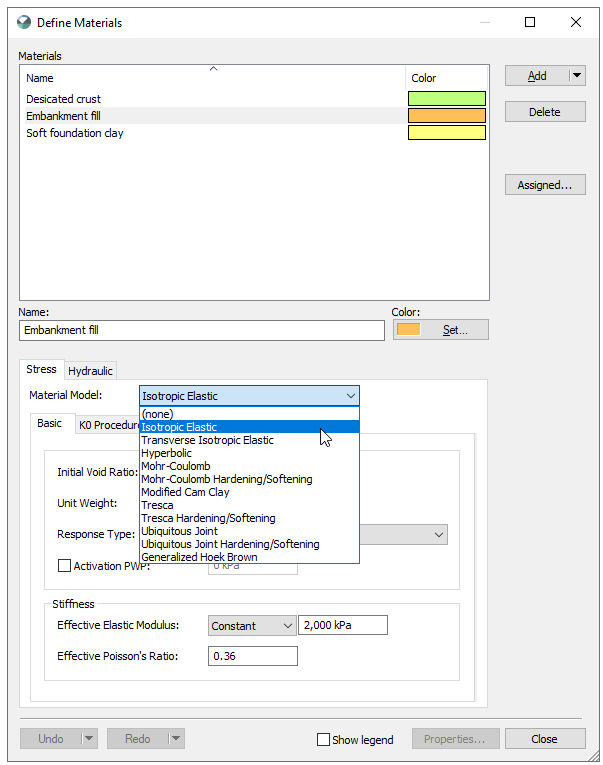 Material Response Types Updated in SIGMA/W
Undrained and drained response types can be combined in a load-deformation analysis, making it possible, for example, to simulate a free draining material overlying a fully undrained material. In consolidation analyses, the response type is ignored as all materials are assumed to be consolidating. However, a material option was added to designate a material with 'no change in water pressures due to volumetric strain', allowing for the simulation of groundwater flow through all materials in the domain, while ensuring that some materials do not respond to loading/unloading. Finally, undrained behaviour is now simulated using effective stress stiffness properties instead of total stress stiffness properties.
Impervious Structures Added to SIGMA/W, SEEP/W, TEMP/W, CTRAN/W, and AIR/W
The ability to simulate an impervious structure has been added, making it easy to model structures that impede the flow of heat or mass. This new feature removes the need to use interface elements with low conductivity and/or null elements adjacent to geotechnical structures.
Huesker and TenCate Reinforcement Libraries Now Available
Load-Deformation2The manufacturer reinforcement options in SLOPE/W were expanded to include Huesker and TenCate. Easily define reinforcement representing Huesker Fortrac® T Geogrids and TenCate MiraGrids. The corresponding Tensile Capacity and Overall Reduction Factor are automatically defined given the selection of the manufacturer reinforcement model. This functionality was developed in partnership with Huesker and TenCate to ensure accurate representation of their products.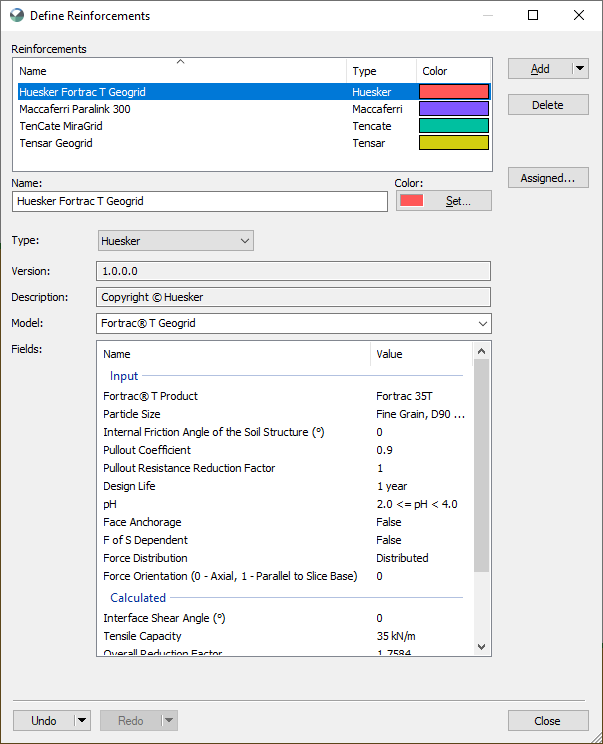 Import Functionality Expanded in BUILD3D
Importing features in BUILD3D have been expanded to include the ability to import IGES files. AutoCAD models constructed with curves, surfaces, or solids can be imported directly into BUILD3D in the IGES format. In addition, STL meshes are now imported as background geometry in BUILD3D, allowing for the creation of profiles and swept lines on a construction plane while simultaneously snapping to the background mesh. This approach provides a very fast method to construct simplified, clean models of overly complex, overly sampled, or poorly meshed 3D domains, for example from LIDAR scans or Civil3D meshed surfaces.
BUILD3D 2D Section Creation Upgraded
The new plan section tool allows for the creation of sections while in plan view, with infinite and finite length lines. Finite lines can be drawn to create a section through only a portion of the domain, while infinite lines automatically cut through your entire model domain. Lines can be constrained so they are perpendicular to existing features on the plan view, allowing for straight-forward creation of 2D cross-sections along defined features like a road cut or open pit face.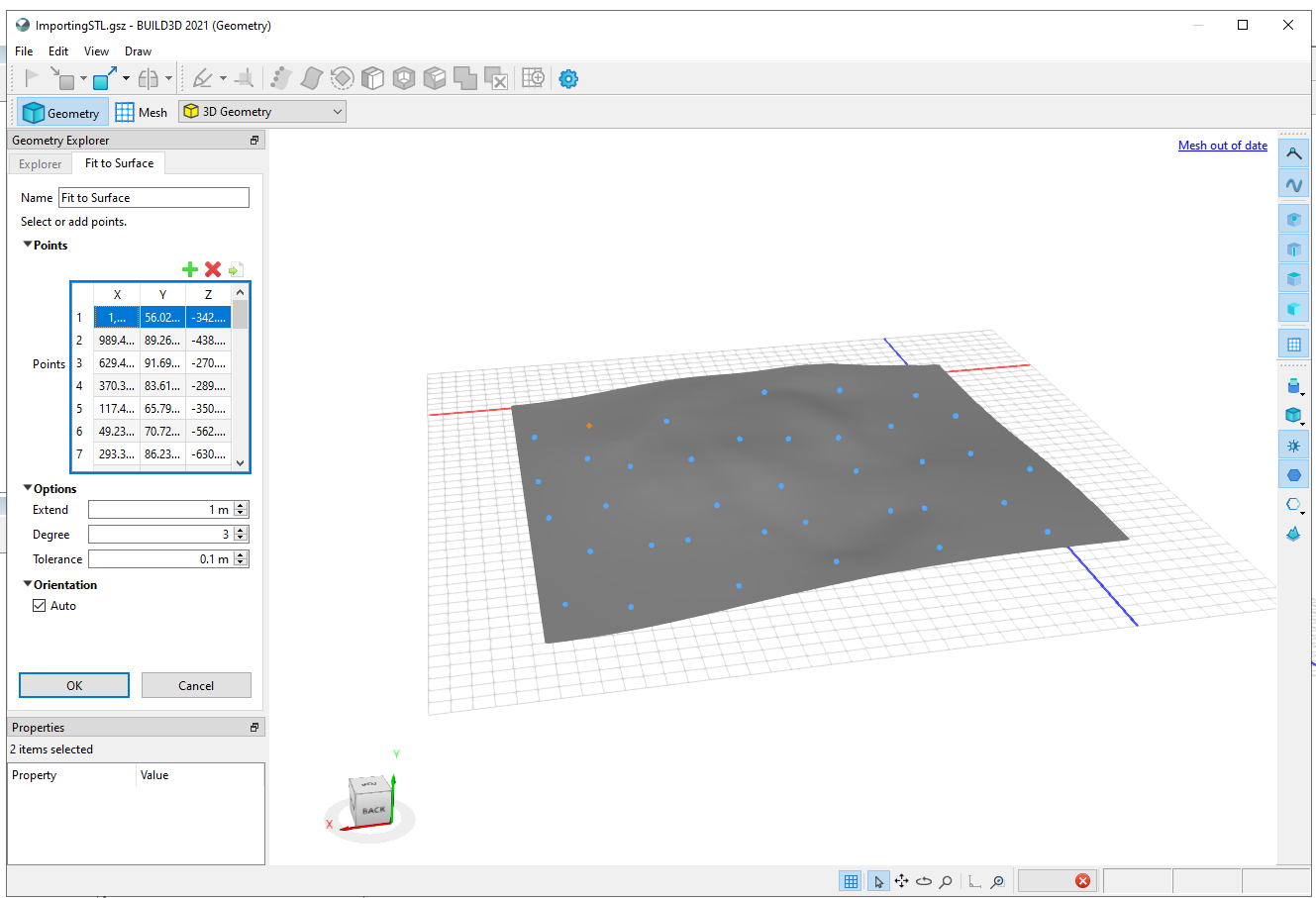 BUILD3D Definition and Results View Improvements
Many improvements were made to the view features in BUILD3D including persisting camera views and clipping planes in Results View, and the addition of a rotation cube with animation as the cube is rotated. In Results View, BUILD3D now includes the ability to display potentiometric surfaces with elevation contours.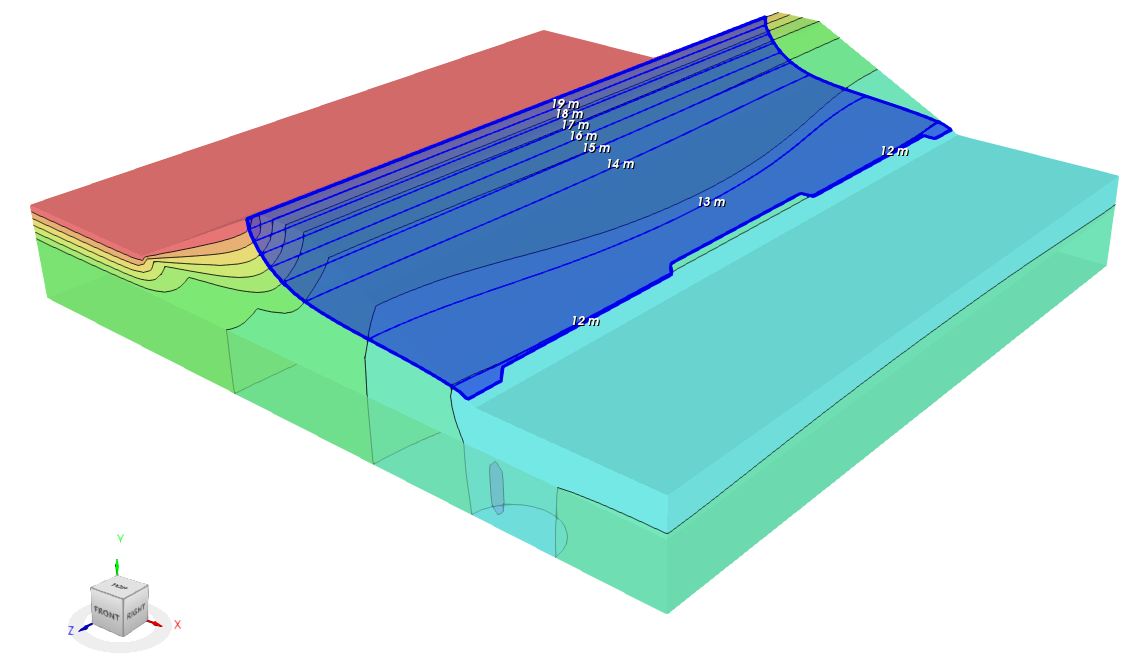 DXF/DWG Import Functionality Expanded
Enhancements to the importing geometry functionality were completed to allow for the conversion of closed loops from DXF and DWG files into regions in GeoStudio. This is common for DXF files exported from Maptek Vulcan geological modelling software.
Manufacturer Reinforcement View Improvements
Properties of manufacturer reinforcements are now displayed in View Object Information and in reports.

GeoStudio 2020
New Features in GeoStudio 2021

New TEMP3D Analysis
TEMP3D can be added to TEMP/W to unlock three-dimensional heat transfer analysis. TEMP3D provides the tools to set up models using the same workflow as TEMP/W analyses, and quickly create simple 3D geometries, as it comes with basic 3D model construction tools. The properties window provides easy material and boundary condition definition, the finite element mesh is generated with a single click, and users can easily interpret the three-dimensional results with contours, 3D vectors, iso-surfaces and graphs.

TEMP3D allows for the analysis of a large range of heat transfer problems, including the impact of infrastructure on permafrost, the design of active and passive mitigation methods, the design of artificial ground freezing systems, and the effects of climate change on geotechnical structures. Integration with BUILD3D allows for the creation of complex three-dimensional geometries.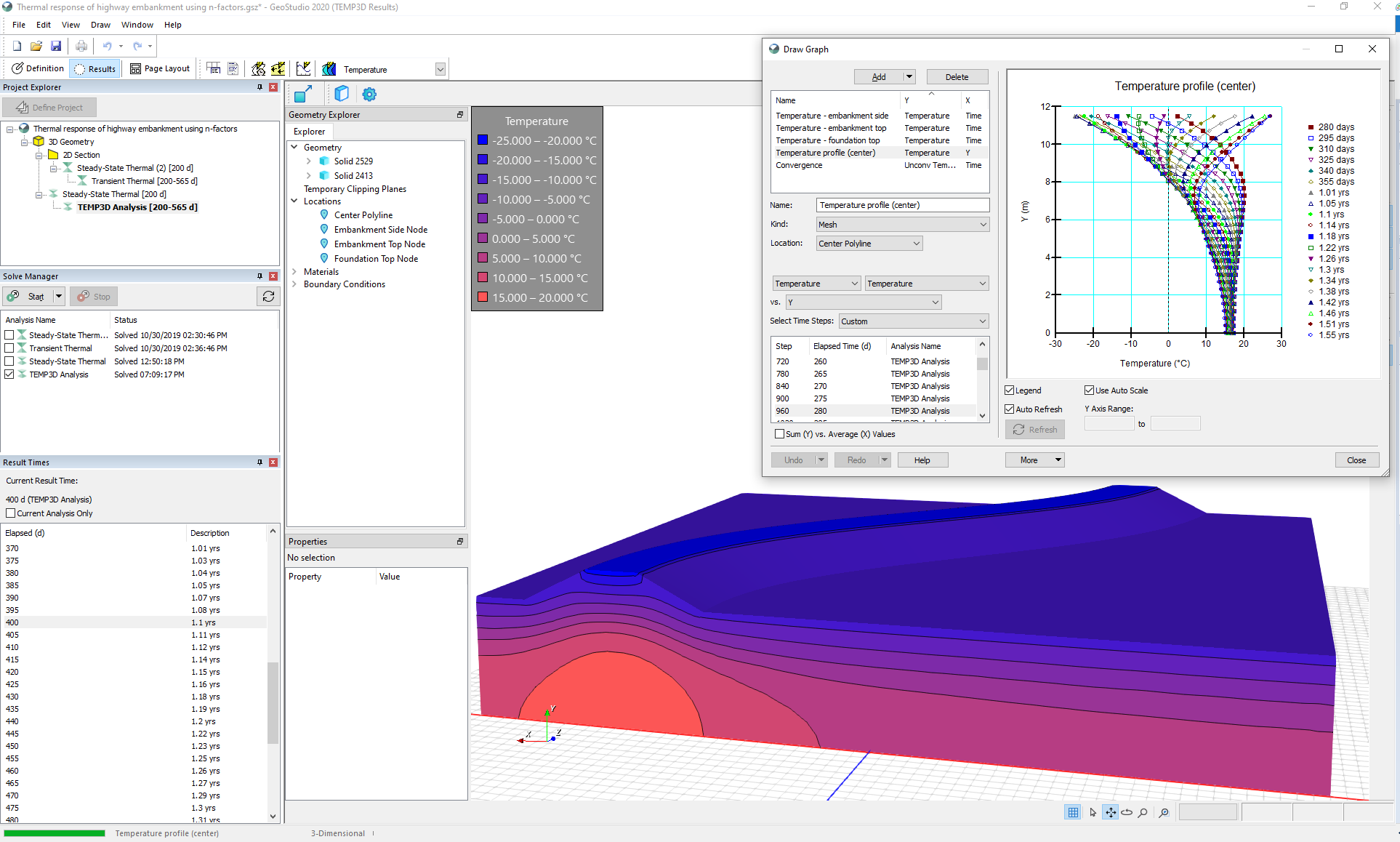 Maccaferri S.p.A Reinforcement Library Now Available
The Maccaferri S.p.A reinforcement library has been added to SLOPE/W. Choose from a variety of product lines including Paralink GeoGrid, ParaGrid, ParaDrain GeoGrid, ParaWeb GeoGrid, and Terramesh. Over fifty product models are available. Select from a range of operating conditions including temperature, design life and pH. Given these specifications, the Tensile Capacity and Overall Reduction Factor are automatically defined. This functionality was developed in partnership with Maccaferri S.p.A to ensure accurate representation of their products.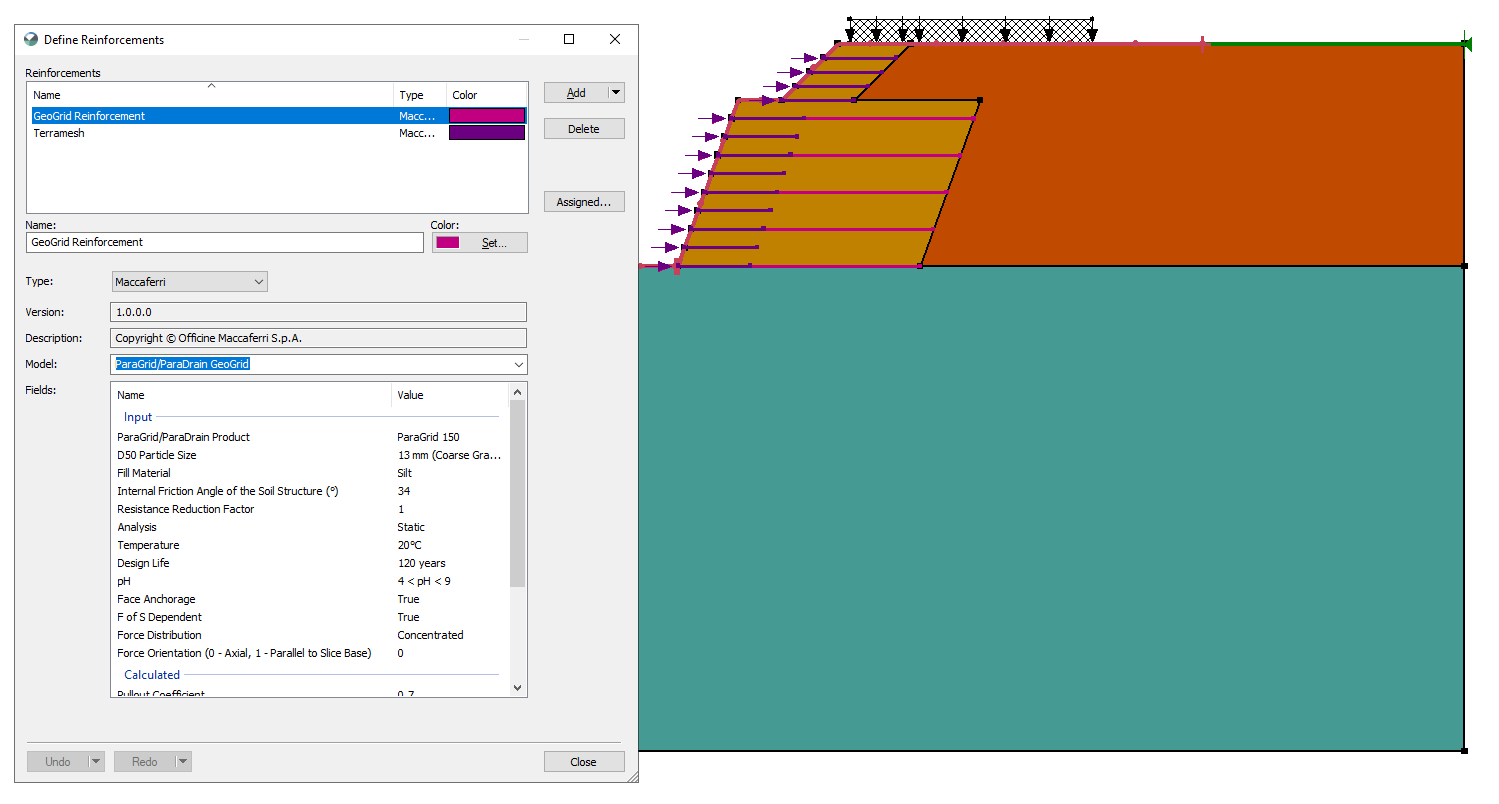 Tensar Corporation Reinforcement Library Now Available
The Tensar Corporation UX Geogrid library is also available in SLOPE/W. The Tensile Capacity and Overall Reduction Factor are automatically defined based on selections for design life and backfill soil classification. The pullout coefficient is automatically populated and the interface shear angle is calculated based on the internal friction angle of the soil structure. This functionality was developed in partnership with Tensar Corporation to ensure accurate representation of their products.


Context Menu Added to Project Explorer
A context menu was added to the Project Explorer such that common commands can be easily accessed by right-clicking on an item in the list. These commands include Queue for Solve, Verify Analysis Branch, Add Geometry or Add Analysis, Delete, and Rename.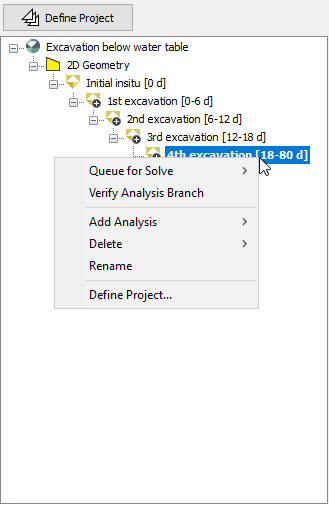 Export Functionality Expanded for Greater Integration
When a 2D geometry has 3D spatial information because it was a cross-section from BUILD3D or because it was imported from a DXF or DWG file, GeoStudio keeps the real world transformation information when exporting to a TIFF file format. This allows for better integration with programs like Leapfrog and AutoCAD, as the file can be directly imported into these programs with the correct three-dimensional location. In addition, display units are now used in GeoStudio for file import and export.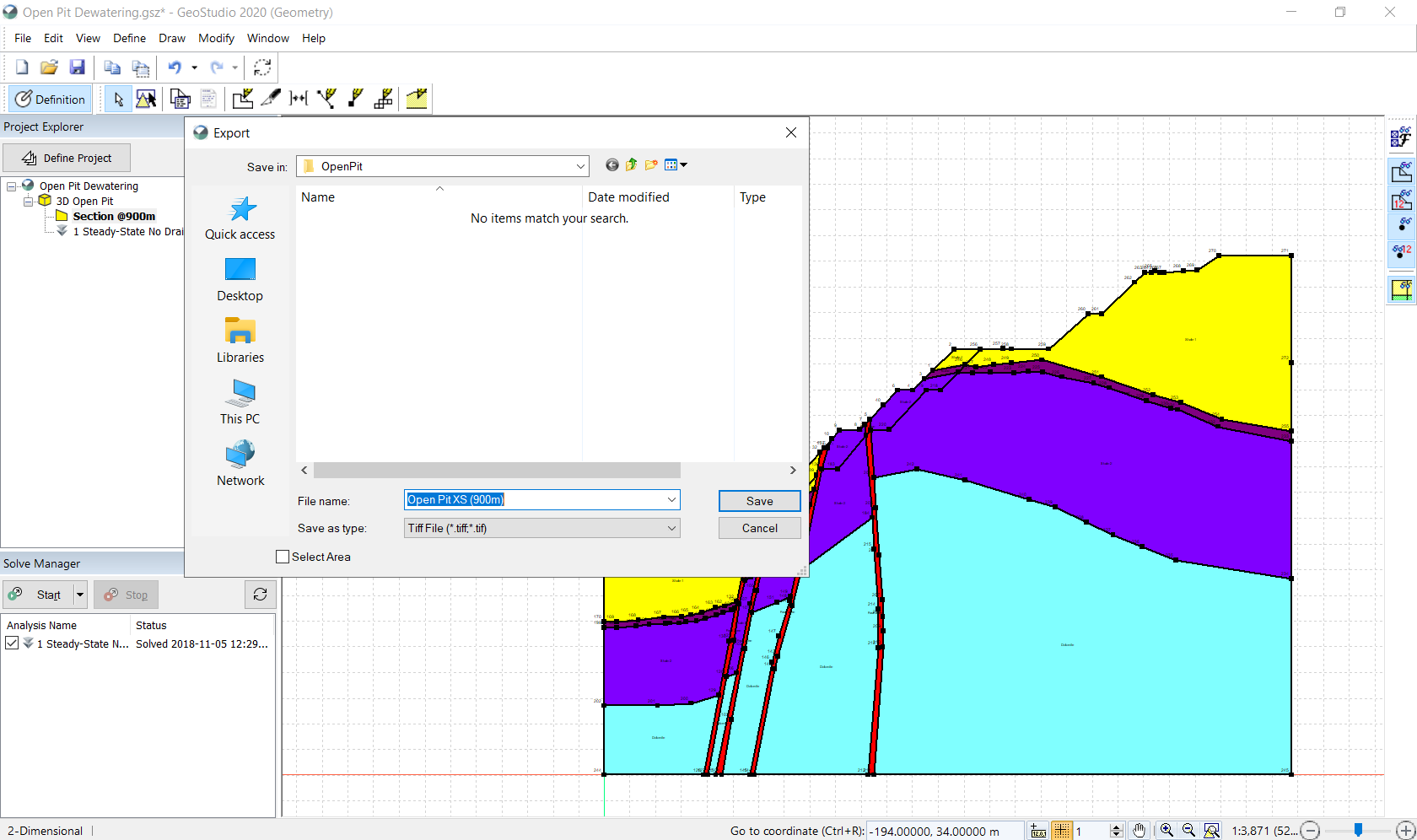 BUILD3D Enhancements
The 3D viewport was upgraded so materials and boundary conditions update when modified in the main GeoStudio window, and to allow for faster switching between analyses. The BUILD3D tool dialogues, toolbars, and icons were also updated.


3D Mesh Definition Expanded
Three-dimensional mesh constraints are now allowed on points for improved mesh refinement.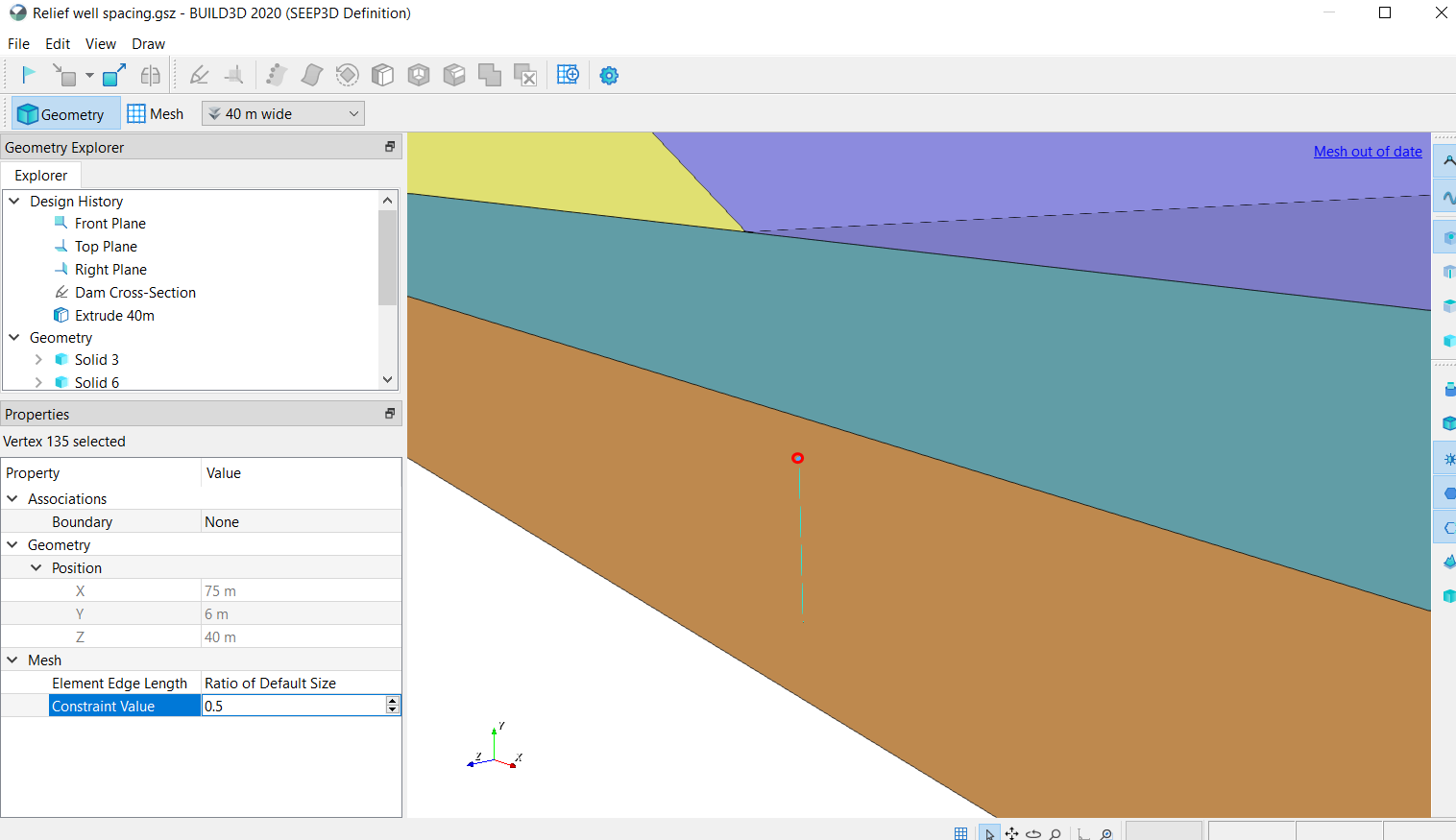 Reinforcement Tables
Reinforcement tables may be displayed in the main GeoStudio window.









GeoStudio 2019 R2
New Features in SEEP3D



New SEEP3D Analysis
SEEP3D can now be added to SEEP/W to unlock the power of three-dimensional groundwater flow analysis. SEEP3D provides the ability to simulate small-scale and large-scale three-dimensional groundwater flow problems, with the same workflow and project definition as typical SEEP/W analyses. Integration with BUILD3D allows for the creation of complex geometry, including highly variable stratigraphy and topography.

Integration with SLOPE/W is also available, making it possible to analyze the stability of multiple two-dimensional cross-sections generated from a single 3D groundwater flow model. The multiple geometry functionality of GeoStudio 2019 R2 accommodates both 2D and 3D analyses within the same project file, with the defined materials and boundary conditions available in both dimensions.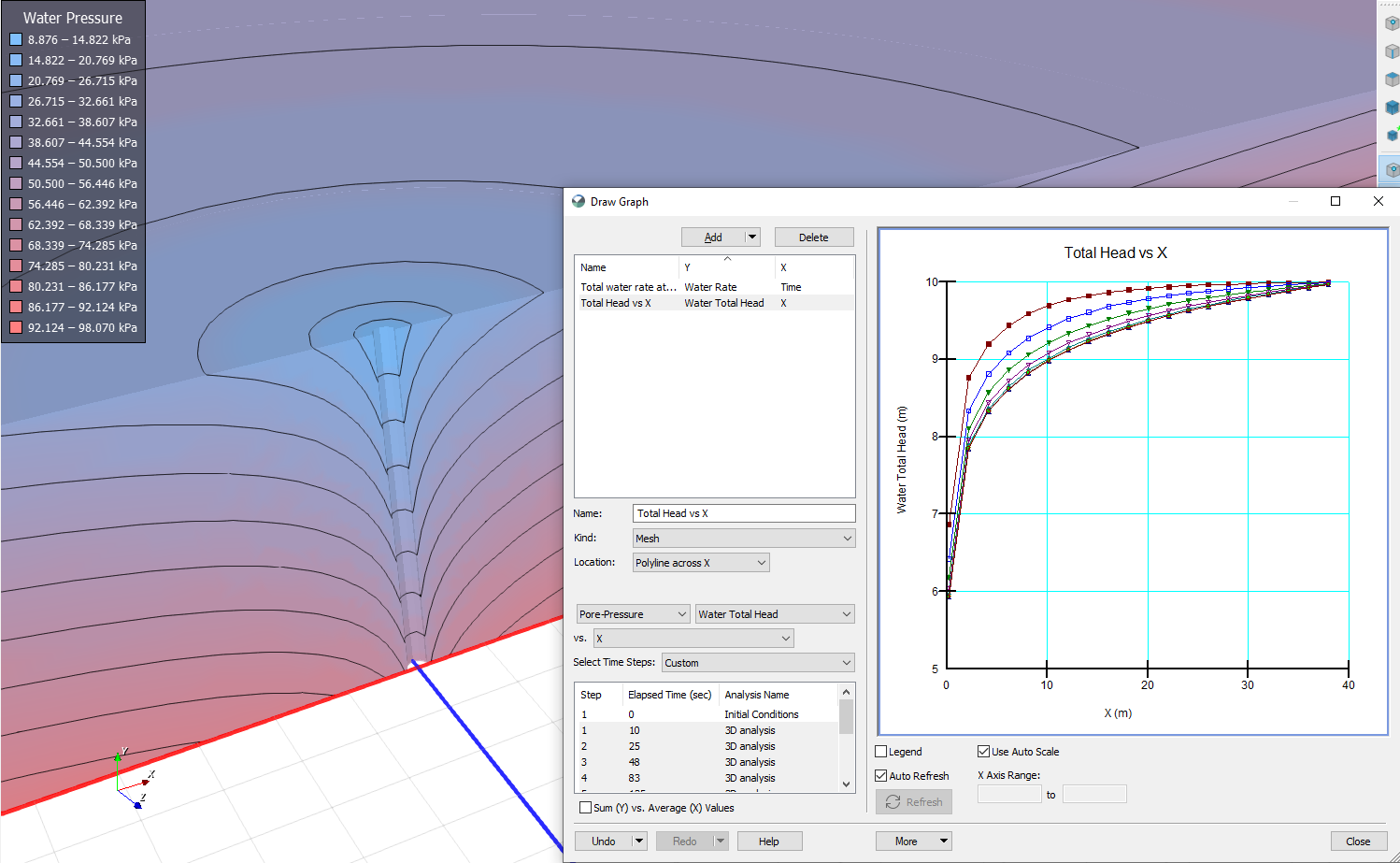 New BUILD3D Geometry Tool
BUILD3D is a new, feature-based 3D geometry creation tool available in the GeoStudio product suite. BUILD3D can be used to create three-dimensional geometries that can be used with GeoStudio's new SEEP3D analysis. BUILD3D allows for quick construction and meshing of three-dimensional geotechnical models, with complex topography, geology, and other engineering design conditions, using the intuitive suite of sketch tools. Two-dimensional geometries or CAD-generated STEP/STL files can be imported to define the three-dimensional geometry using BUILD3D.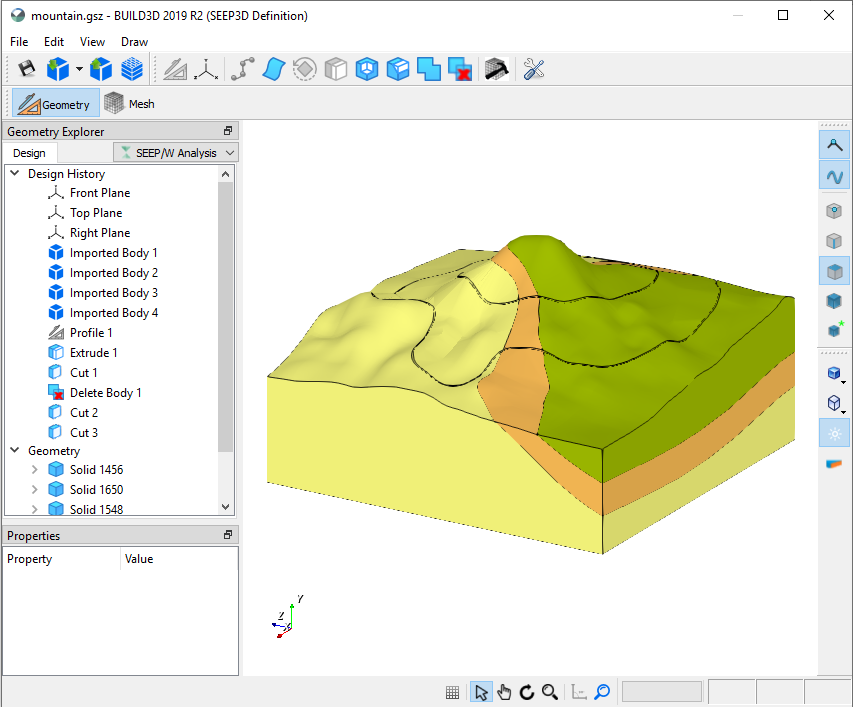 Improvements to Multiple Geometries Support
Improvements have been made to multiple geometry support, by providing a simplified process for adding new geometries to a single project file. Geometry types can now be added via the Define Project dialog by selecting the desired dimension for the new geometry prior to creating the analysis. Geometry dimensions can also be added to the project from the Start Page.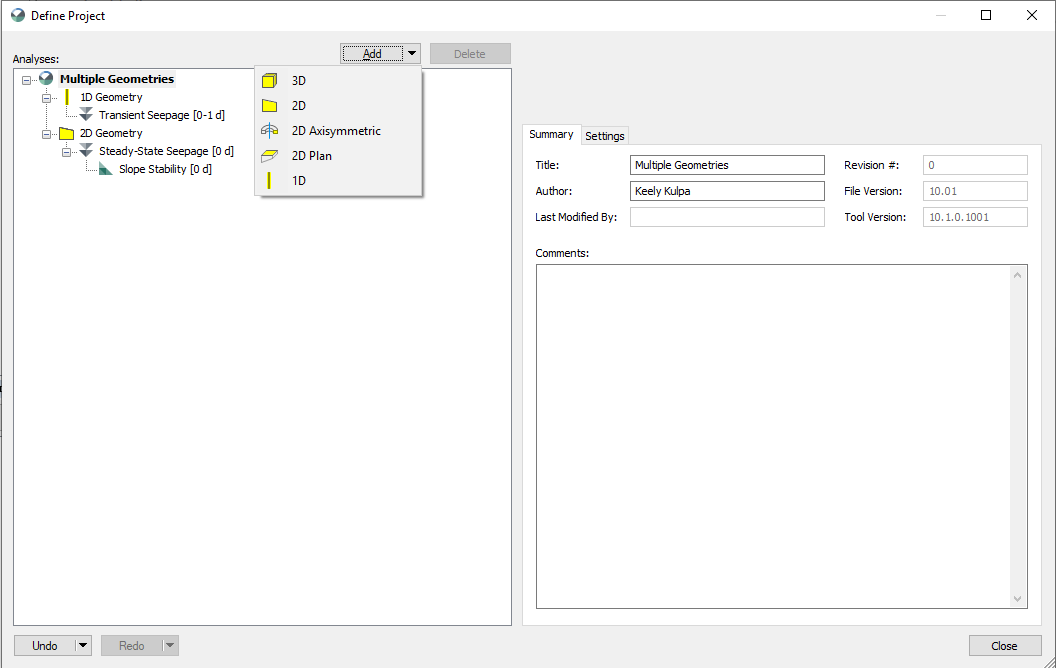 Geometry View
A geometry can now be created and edited prior to adding an analysis to the Analysis Tree. Material assignment can be done directly in the Geometry View. Analyses subsequently created under the geometry will automatically adopt the materials defined in the associated geometry. Moreover, CAD files can be imported directly into the Geometry View.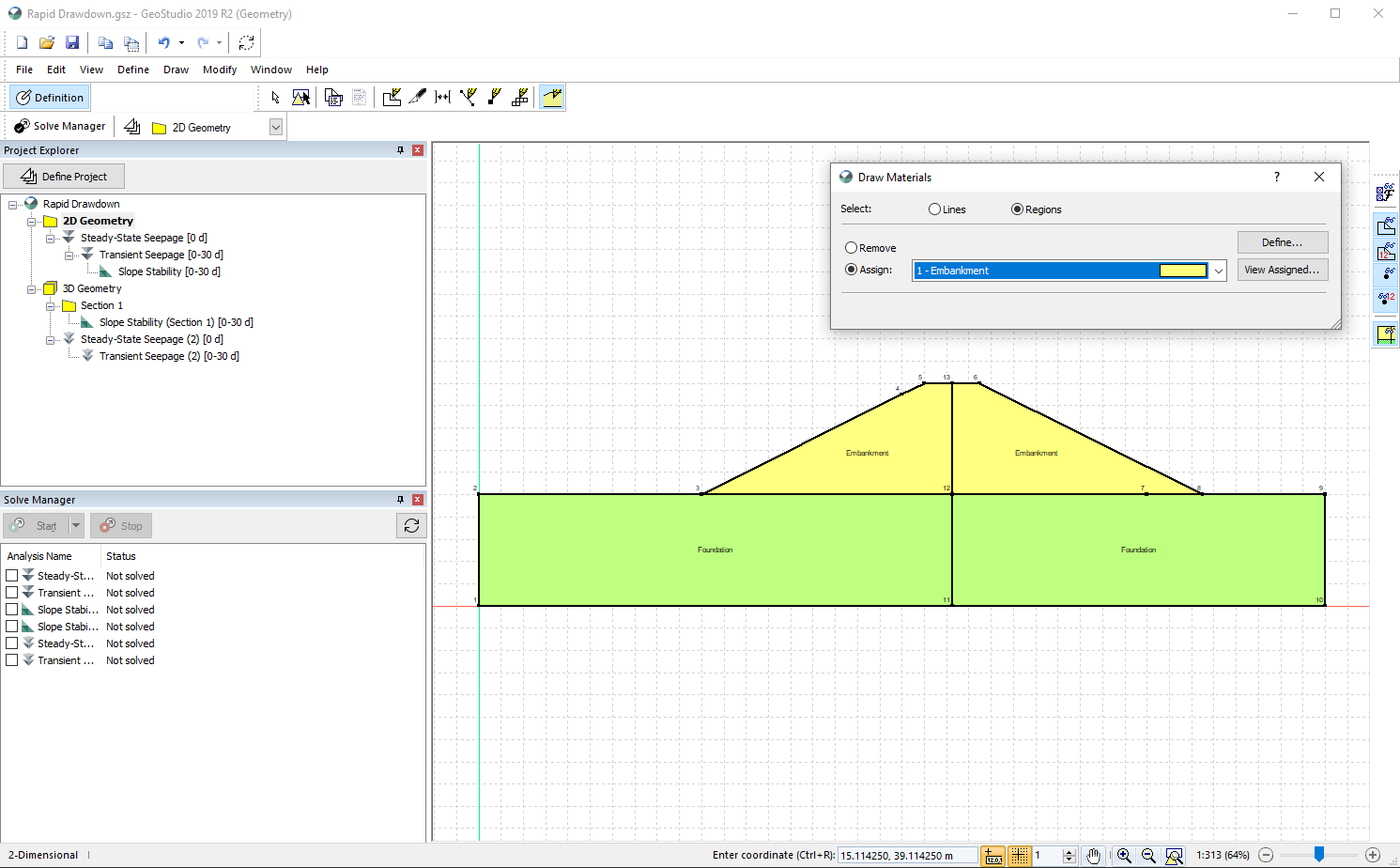 Slip Surface Highlighting
Line segments for the slip surface definition are now highlighted in SLOPE/W to better indicate which input is being modified.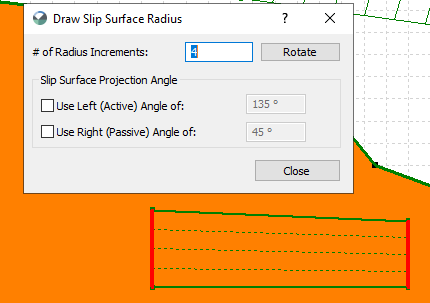 GeoStudio 2019
New Features in GeoStudio 2019



Improved reinforcement load definition
The method for defining reinforcement loads in GeoStudio 2019 has been improved. Reinforcements (such as anchors, soil nails, piles, etc.) can now be defined separately from the reinforcement geometry. The Define Reinforcements dialog box has been added and has been organized to better reflect natural work flow.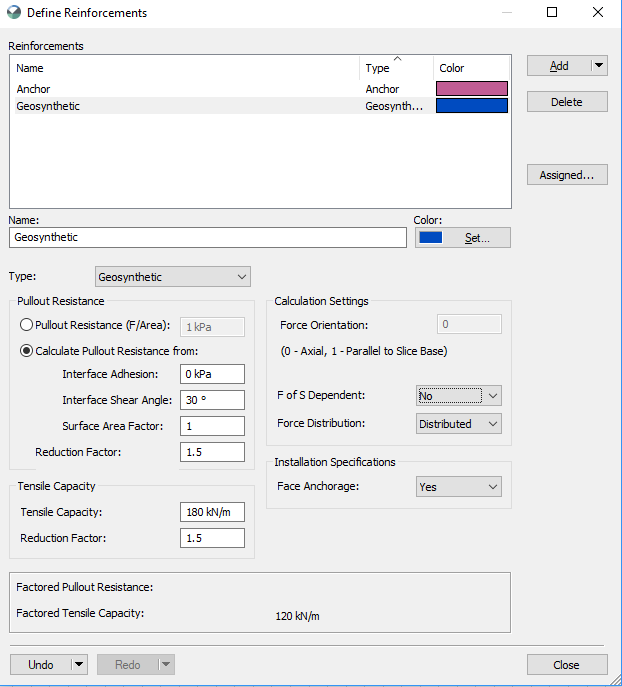 Improvements to drawing and defining individual reinforcements
Reinforcement lines can be drawn and modified in separate Draw Reinforcement Lines and Define Reinforcement Lines commands. Reinforcement lines can now be snapped to the ground surface line, so that the lines move with the ground surface if the geometry is modified.


Reinforcement sets added
A Reinforcement Sets dialog box has been added to GeoStudio 2019. The Draw Reinforcement Sets and Define Reinforcement Sets windows can be used to add, modify, or delete multiple reinforcement lines that share the same reinforcement properties. A single reinforcement type defined in Define Reinforcements can be applied to all lines within the reinforcement set using a single dropdown box. The spacing between reinforcement lines within a set can be based on a specified spacing between reinforcements or a specified number of reinforcements along the set range. Reinforcement sets can also snap to the ground surface line, so that all lines will remain on the ground surface if the geometry is modified.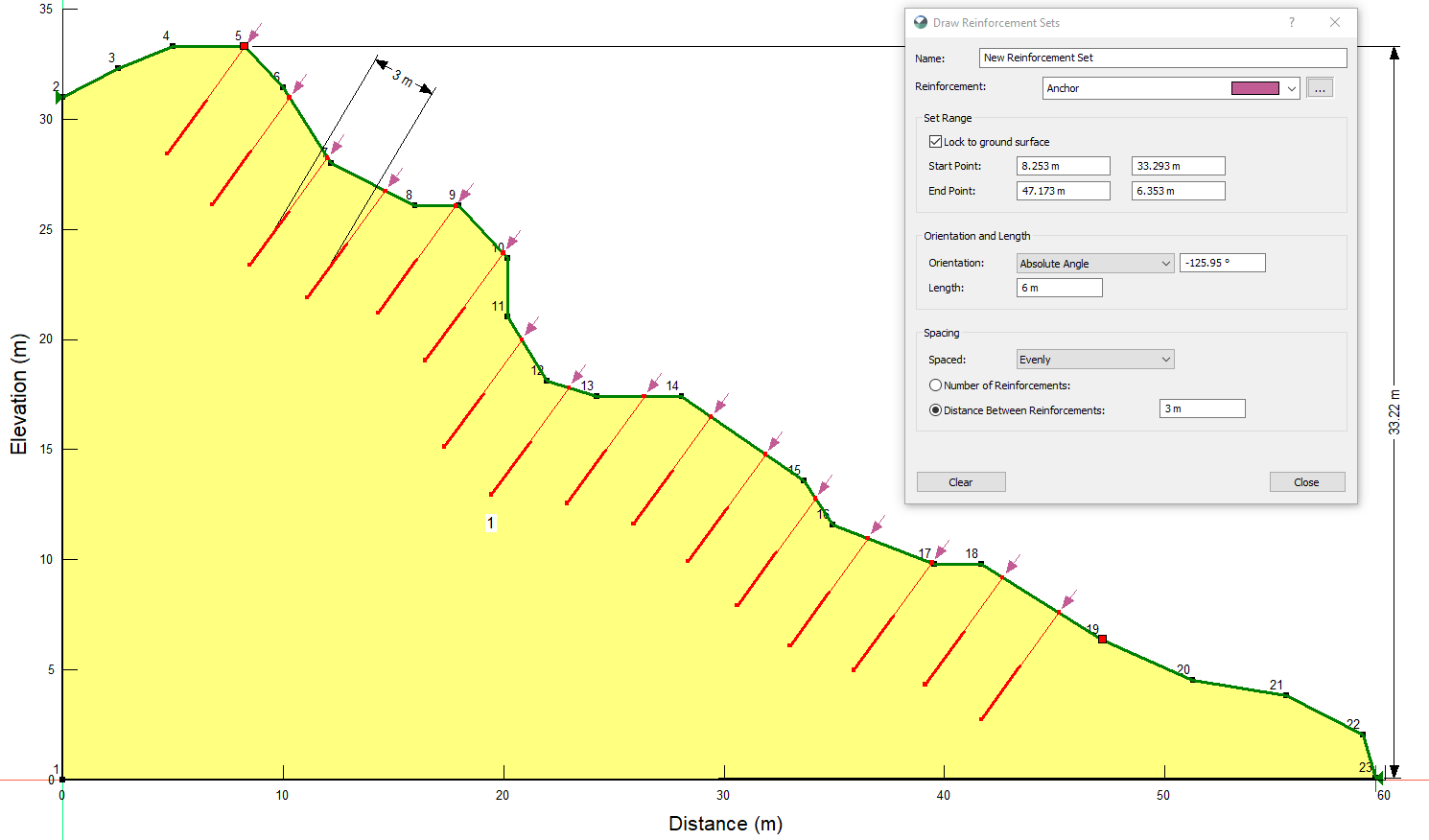 Multiple geometries now supported
GeoStudio 2019 can now support multiple geometries within a single file. The geometry for separate analyses branches can be modified to account for changes in geometry, such as varying slope face angles, material depth, cross-section location, etc. without the need to create multiple files. This allows the materials and boundary conditions used in each analysis branch to be shared across the file, so that modifications to material or boundary condition property will only need to be changed once for all geometries within the same GeoStudio file.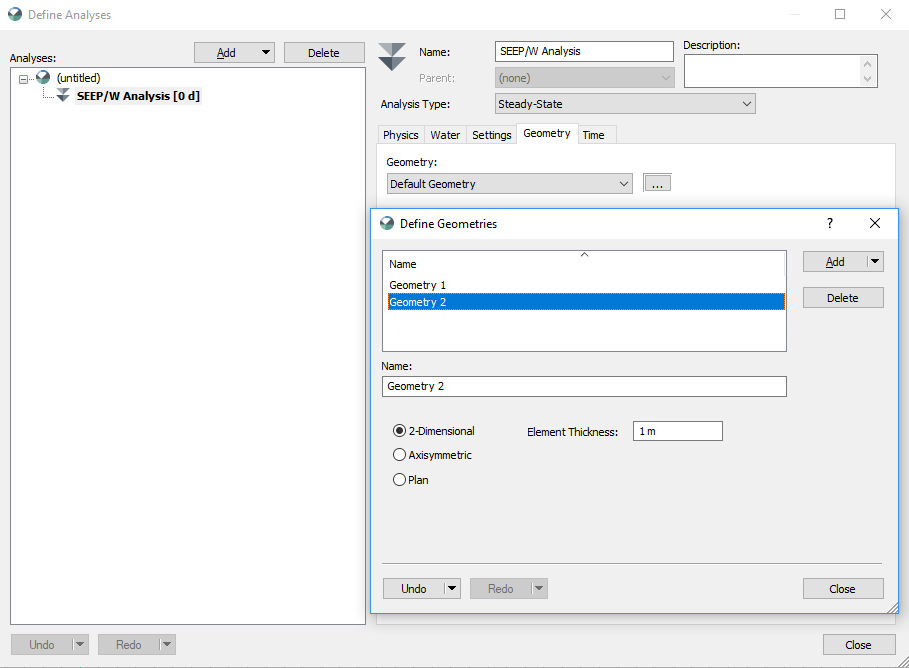 Import DWG/DXF improved
The Import feature has been improved. The Import dialog box now allows materials to be imported with the regions. An option to simplify a complex geometry that is being imported has also been added to reduce the number of points along region interfaces. The coordinates of the imported geometry can be translated to start at local horizontal and/or vertical coordinates of zero in the GeoStudio file. When exporting the regions from GeoStudio 2019, each region geometry and material are now exported as layers, as well with the layer color.


Sketch pictures improved
The Sketch Pictures dialog box has been improved to include similar features as the other Sketch dialog boxes that were updated in GeoStudio 2018. GeoStudio 2019 now has the option to embed the pictures into the GeoStudio file. This allows the file to be moved or shared without the need to update the picture file location, as the picture will be saved within the GeoStudio file.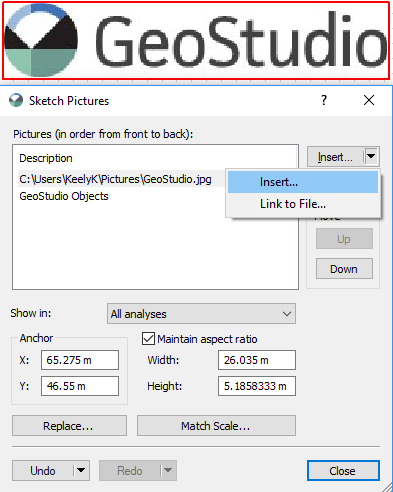 Sketch text improved
Sketch Text in GeoStudio 2019 can now be used to add borders, background colors, and anchor alignment to text objects on the drawing. The Sketch Table commands have also been improved to include these features.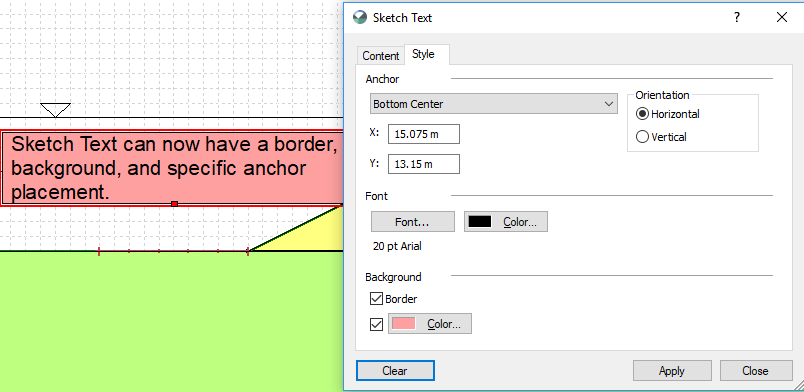 64-bit now available
Handle larger analyses on 64-bit operating systems. The entire GeoStudio application is now 64-bit. (A 32-bit installer is available for older 32-bit operating systems.).