연구의 선진화와 생산성 향상에
필요한 최적의 소프트웨어와 컨설팅을
공급하도록 노력하겠습니다.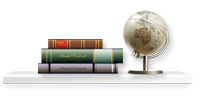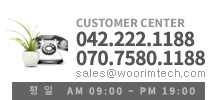 다음은 Global Mapper의 다양한 기능중 몇가지 기능을 보이고 있는
간략한 설명과 그림들입니다.
(큰 이미지를 보기 원하시면 이미지를 클릭하십시오.)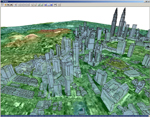 Global Mapper's 3D View window displaying a terrain surface with 3D building vectors for Kuala Lumpur, Malaysia.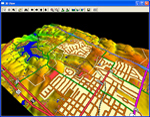 Global Mapper's 3D View window displaying several USGS 24K DLG files draped over a USGS 24K USGS DEM for Blue Springs, MO.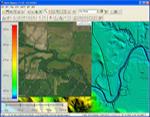 Global Mapper displaying some very high-resolution (1m per pixel) LiDAR-derived grid data with high resolution (1ft per pixel) DigitalGlobe displayed over a portion of the grid for reference.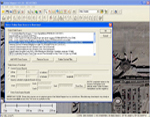 Global Mapper displaying some TerraServer-USA urban imagery for Bush Intercontinental Airport in Houston, TX. The dialog used to import TerraServer-USA data is displayed over the extremely detailed color imagery.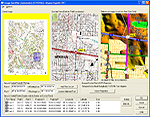 This screen shot displays an image rectification/registration process whereby control points are used to place an image at the correct location on the earth. You can see that you can easily select control points based on other loaded data (the right-most map display) and associate them with the same location on the map being rectified.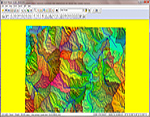 A stream network with drainage areas automatically generated by the watershed delineation command in Global Mapper from 24K USGS DEM data. You can clearly see the stream network as well as the area that drains to each calculated stream segment.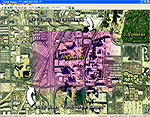 Global Mapper feather blending a very high resolution (0.15 meters per pixel) color image with a lower resolution (3.5 meters per pixel) color image for the same area. The high resolution image has been purposely tinted purple to make the feathering effect more visible.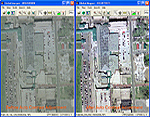 Two instances of Global Mapper with the same satellite image loaded. In the left instance, no modification to the color values in the image have been done. In the right instance, the auto contrast adjust option found in the Options menu in the Overlay Control Center has been enabled. The drastic improvement in the image appearance is obvious.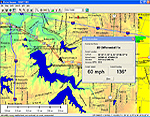 Global Mapper display when tracking a GPS device over loaded data. In the sample, 30-m SDTS DEM data is loaded as a backdrop with Tiger 2002 data loaded on top. You can see the GPS vessel location and the tracklog of where the vessel has been. The GPS Information dialog displays current GPS status information.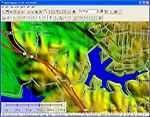 Global Mapper loaded with a 24K DEM and Tiger/Line data for an area. Notice the rich vector display and the status bar display of the street address currently under the cursor.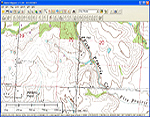 Global Mapper loaded with four adjacent 24K DRG's (Oak Grove, MO, Blue Springs, MO, Buckner, MO, and Missouri City, MO). All DRGs have the auto-clip collar option selected. Note how the DRGs display seamlessly. Without the auto-clip collar feature, there would be a large collar that would block out a large portion of the adjcacent data.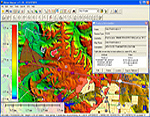 Global Mapper after performing a view shed analysis on several loaded SDTS DEM data sets with vector DLG data loaded on top to provide reference. Global Mapper is able to perform view shed analysis on any of the supported elevation grid formats from a user-specified location, with a specified transmitter height and radius.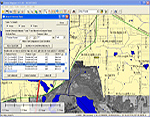 Global Mapper loaded Tiger/Line vector data with USGS DOQQ imagery underneath. A vector attribute/name search dialog is displayed with an active search on any features with '21' in the feature name. One of the matching results is selected with the selected feature highlighted on the map underneath as well.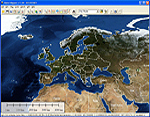 Global Mapper with Blue Marble imagery loaded from a WMS data source with country boundaries with some labels displayed on top.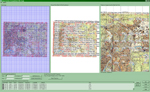 User Supplied Screenshot
- This user-supplied screenshot displays the rectification /geoposi tioning of a scanned historical map with well over 100 ground control points used to perform the transformation.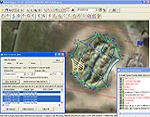 User Supplied Screenshot
- This user-supplied screenshot displays numerous vector layers displayed over some imagery as well as an active search.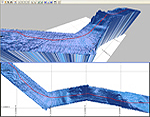 User Supplied Screenshot
- This user-supplied screenshot created from multibeam data of a cable route survey that we conducted offshore Haiti. I overlaid a proposed route to demonstrate to the client how it would fall on the seabed. After seeing these types of graphic demonstrations our clients quickly purchase your product as it is a very good tool for viewing cable routes!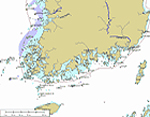 이 스크린 화면은 우리나라 지역의 전자해도(S-57)을 Global Mapper에서 읽어 도시한 예입니다.