연구의 선진화와 생산성 향상에
필요한 최적의 소프트웨어와 컨설팅을
공급하도록 노력하겠습니다.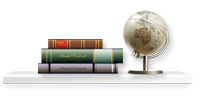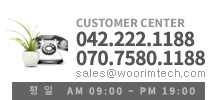 River Flo2-D

>>

2차원 유한 요소 하천 역학 A.S.A.P 모형

A fast, high resolution, in channel, 2-D finite element river model for subcritical/ supercritical flow with stable wet-dry capabilities (no spindown required).
Advanced(고급 알고리즘)
RiverFLO-2D는 첨단 유한 요소 해법 알고리즘을 사용하여 유사 모형들이 갖는 대부분의 단점들을 해결해 줍니다. 명시적 시간-간격 알고리즘은 방대한 매트릭스 체계의 솔루션을 요구하지 않고, 효율적 병렬화에 대한 유연성을 제공합니다.
Stable(안정성)
RiverFLO-2D는 초임계 및 미임계 흐름(Supercritical & Subcritical Flows)에 대해 매우 빠르고 보다 안정적인 2차원 유한 요소 모형을 제공합니다. 컴퓨터 코드는 OpenMP 표준 명령어들을 사용하고 병렬화함으로써 연산 시간을 크게 단축시켜주고, MS-Windows XP 또는 Vista 운영체제를 사용하는 다중코어 컴퓨터(Duo/Quad)의 이점을 이용합니다.
Accurate(정확성)
RiverFLO-2D는 Mass conservative & Robust Dry-Wet treatment method를 제공하여 인위적인 속도(Velocities)나 서징(Surging)을 만들지 않고 큰 메시(mesh) 영역을 건조(dry)할 수 있습니다. 이 모형은 시뮬레이션 진행을 통해 모형의 정확성을 평가함과 아울러 체적 보존(Volume Conservation)에 관해 리포트해 줍니다.
Productive(생산성)
RiverFLO-2D는 모형 설정에 소요 되는 시간을 최소화할 수 있어 보다 많은 시나리오를 실행해 볼 수 있고 실제 모형 응용과 결과 분석에 집중할 수 있습니다. RiverFLO-2D는 강 바닥 전체가 건조하더라도 실제 초기 상태를 갖고 시뮬레이션을 할 수 있으므로 보다 생산성을 높이도록 도와줍니다. RiverFlo-2D 사용자 인터페이스는 Argus Open 수치 환경(Argus ONE)에 기초를 둔, GIS 통합 소프트웨어 체계로 유한 요소 메시(mesh)를 만들고 다듬기 위한 인터랙티브 함수들을 제공합니다. 또한, 경계 조건을 쉽게 할당할 수 있게 해줍니다.
Model Applications
RiverFLO-2D를 고정 바닥(Rigid bed) 또는 이동 바닥(mobile bed) 활용에 대해 시간 종속 및 안정 상태(Steady-State)의 2차원 하천 시뮬레이션에 적용할 수 있습니다. 이 모형은 유동장(flow field)을 상세히 묘사하는 고해상도의 공간적 변수 결과를 생성합니다. 본 모형은 일반적으로 아래와 같은 분야에 적용할 수 있습니다.
Detailed in-channel river hydrodynamics
하천 제방 범람(River overbank flooding)
제방 제거(Levee removal)
댐-붕괴 홍수 분석(Dam-break flood analysis)
토사 이동 - 이동 바닥(Sediment transport - mobile bed)
제방 침식 방지 설계 및 분석(Bank erosion protection design and analysis)
강 복원 설계(River restoration design)
| | |
| --- | --- |
| | |
| A.S.A.P. Modeling with RiverFLO-2D | 미국 워싱턴 Hoh 강의 제방 보호 프로젝트에서 설계된 Log Jams 주변의 상세 유한 요소 메시 |
Model Formulation(모형 체계)
방정식
RiverFLO-2D is based on the depth-averaged equations that govern free surface flow, sediment transport and bed evolution in rivers: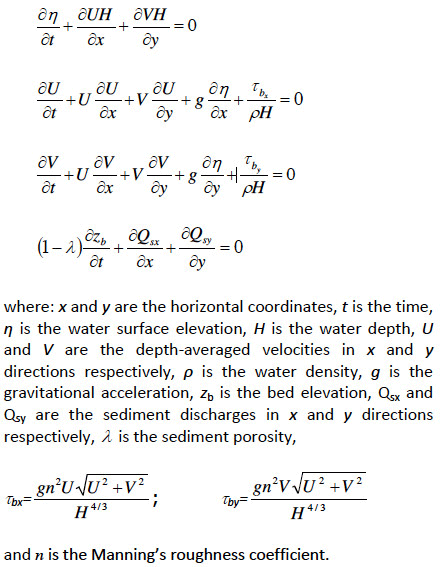 With the sediment transport module, users can select from six sediment transport capacity formulas for mobile bed applications, including, Meyer-Peter and Muller, Yang, Ackers-White, Karim-Kennedy, Toffaleti, and Wilcock-Crowe for gravel-bed rivers. Bed aggradation and degradation is tracked. As an example, RiverFLO-2D procedure based on the Meyer-Peter and Muller formulation uses the following equations: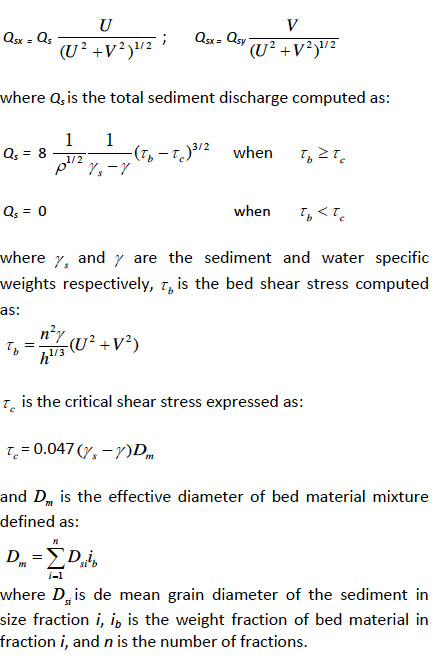 Solution method
The Finite Element Method is the preferred numerical approach for detailed in-channel river analysis because the finite element mesh adapts to irregular channel geometry. The method is also supported by a solid mathematical foundation. RiverFLO-2D implements an efficient four-step explicit time-stepping scheme to solve the full dynamic wave momentum equations. RiverFLO-2D does not require adding artificial diffusion to stabilize the numerical solution. The spatial discretization uses triangular elements and since the solution method is explicit, it does not involve solution of large matrix systems. RiverFLO-2D has a robust mass (volume) conservative drying-wetting algorithm that permits portions of the mesh to become repetitively dry and wet during simulations. Some 2D channel models cannot simulate an initial dry river bed, and require a time-consuming mesh draining process until the actual dry bed conditions are reached. This is commonly known as model spin-down. In RiverFLO-2D, the river bed may be initially dry or it may become dry during the simulation and the model does not require the costly spin-down computational process.
Parallelization for multiple processor computers
RiverFLO-2D parallelized computer code, takes advantage of multi-core computers that use MS-Windows XP or Vista operating systems. Most 2D hydraulic models are either based on sequential codes that do not utilize multiple-threading programming techniques or have been parallelized in computer cluster environ-ments that are often not accessible to many consulting engineering companies and government agencies. Tests in multi-core processor computers indicate that the RiverFLO-2D model is able to run up to 2.5 faster than the sequential code in single processor computers.
Verification
To verify RiverFLO-2D capabilities to simulate river hydrodynamics, the model has been tested following the procedures recommended by the ASCE 3D Flow Model Verification and Validation Committee. This validation process involved testing the model with analytical solutions and simplified cases, comparison against laboratory experiments and application to field scale projects with available data. RiverFLO-2D testing results have been published in peer-reviewed journals. Application to field scale problems, such as the well-known Malpasset dam-break event, reveals that the model accurately replicates wave travel times and measured water surface elevations on an initially dry river bed.